Having a credit card is one of the landmarks of adulthood, and I personally believe credit cards are a means to help me become more financially savvy and responsible. For beginners, however, finding the right one can be quite challenging, especially with the numerous offerings available on the market today.
One of the most beginner-friendly credit cards out there comes from the First Nations Bank of Canada. With its excellent selection, its range of options is useful not only for first-time cardholders like me but also for those who are looking for easier credit cards to manage.
In this guide, I will walk you through applying for a First Nations Bank of Canada credit card. By letting you know about its features and rates, I'll equip you with the information you need to successfully apply for a credit card under this bank.
What Is the First Nations Bank of Canada?
Features and Benefits of a First Nations Bank Credit Card
Applying for a Credit Card
Understanding the Corresponding Charges
Managing Your First Nations Bank Credit Card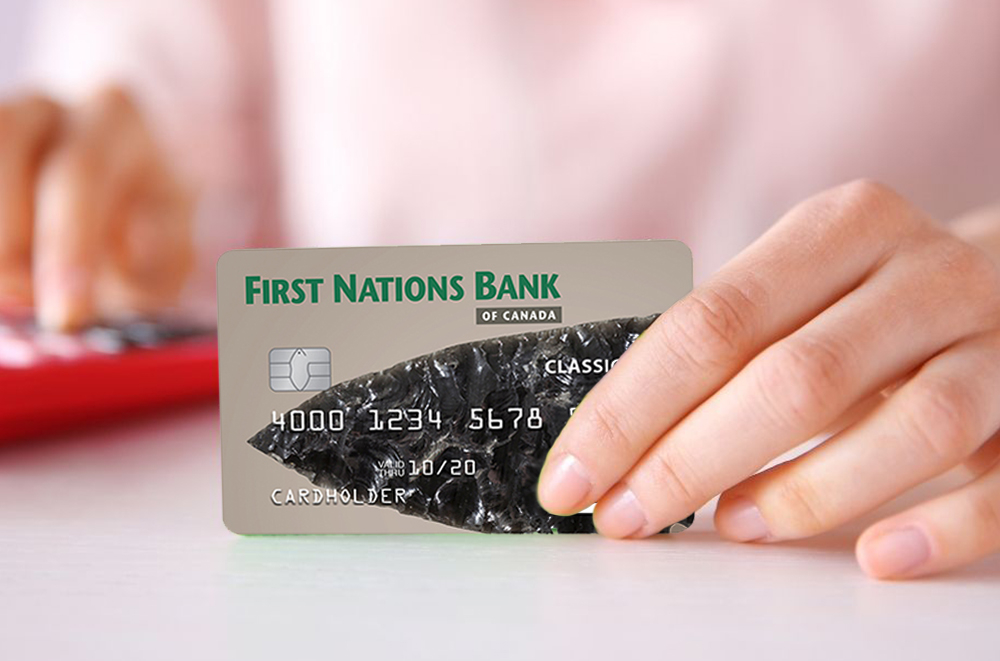 What Is the First Nations Bank of Canada?
First Nations Bank of Canada is a chartered bank based in Canada. It is considered the first chartered bank in the country to be controlled by its Indigenous shareholders. Founded in 1996, the financial institution's headquarters is located in Saskatoon, Saskatchewan.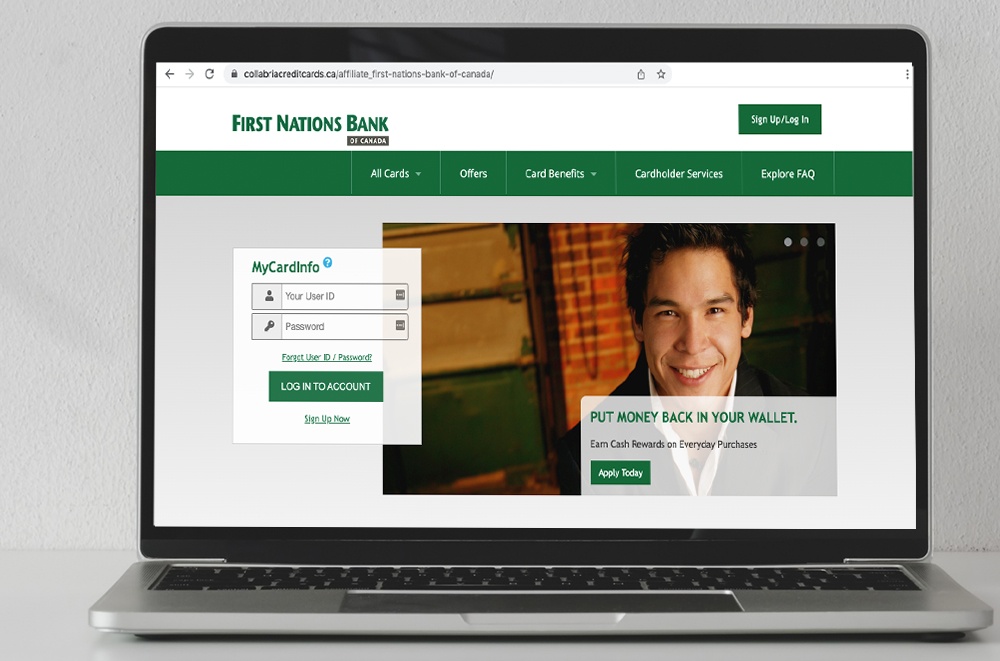 This bank specializes in catering to the Indigenous peoples of Canada, with 80 percent of this company owned and controlled by them. First Nations Bank of Canada offers an array of financial services and products, such as mortgages, loans, and investments.
Of course, the bank also provides consumers access to savings and or transaction accounts, cash management services, and even credit cards.
Different Types of Credit Cards Available
There are four main types of credit cards offered by the First Nations Bank of Canada, namely the Cash Back Visa Card, the Visa Classic Card, the Travel Rewards Visa Gold Card, and the US Dollar Visa Card.
Each of these credit cards is geared towards a particular purpose. For example, frequent travelers will benefit the most with a Travel Rewards Visa Gold Card in hand as cardholders can use this to redeem hotel stays, flights, and many others.
Apart from personal cards, the First Nations Bank of Canada also has a business credit card for work-related transactions or needs. This is the No Fee Cash Back Visa Business Card.
Features and Benefits of a First Nations Bank Credit Card
Beginners or first-time cardholders might have a hard time choosing from the range of First Nations Bank of Canada credit card offerings. To help demonstrate the range of benefits, I will focus on the Visa Classic Card. This particular card is appealing primarily for its low-interest rate of 12.99 percent.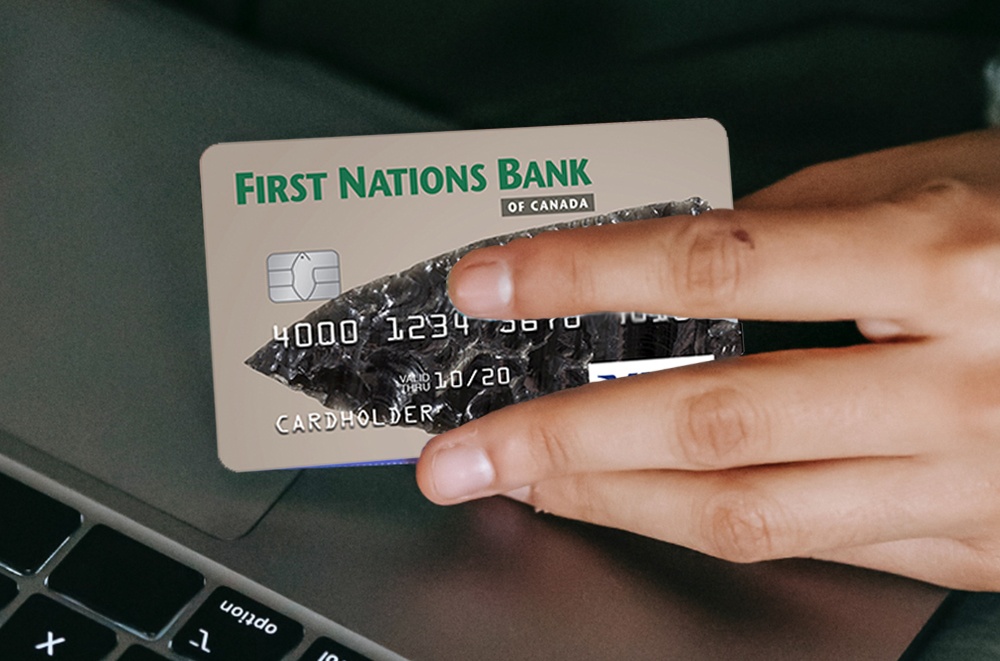 To complement this perk, the card comes with absolutely no annual fee, making it a fuss-free and even money-saving option that's definitely a plus in my books. As part of its welcome offer, the financial institution extends a 3.9 percent balance transfer rate valid for six months.
This card comes with no additional fees, letting me save more money in the long run. Apart from these, I want to highlight the ease of use and simplicity of this card. Since this is powered by Visa, I know that this credit card is accepted around the world, anywhere Visa is recognized.
Protection and security are also at a premium with this card. I am extended a zero liability fraud protection for unauthorized purchases made on my credit card. This is coupled with purchase-protected and extended warranty service, alongside mobile device insurance.
Exclusive Visa Benefits
I have already said that one of the benefits of using a Visa-powered credit card such as this one from the First Nations Bank of Canada is that it is accepted worldwide. However, there are other perks that come with this.
One of these is getting emergency assistance anywhere around the world with the help of the Visa Global Service. This is particularly important for people who intend to report a lost or stolen card, as well as getting an emergency card replacement or getting a cash advance in case of emergencies.
The Visa-powered services extended to cardholders like me also include 3D Secure which protects me when I'm shopping online.
Applying for a Credit Card
To apply for a First Nations Bank of Canada credit card, all I had to do was click on the Apply Now button located on the page. The application form required me to provide my personal details such as my name, my Social Insurance Number, date of birth, email address, contact number, and address.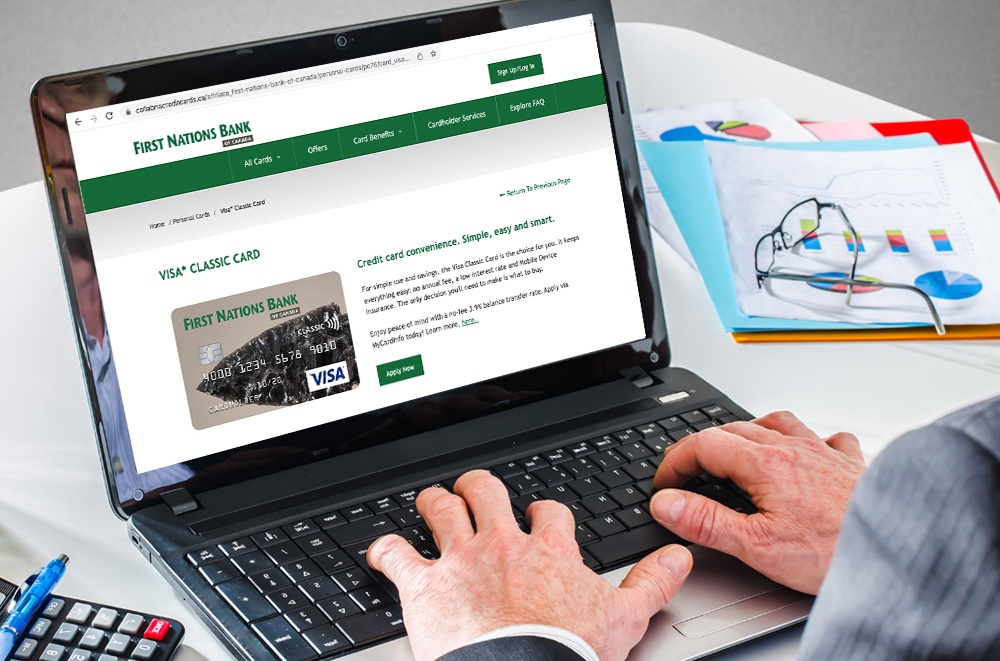 I also provided the bank with my employment information. These included my occupation and the name of my employer or my company, as well as my company phone number. My gross monthly income was also disclosed.
During the last part of my application, the bank asked if I was their employee, if I would like to apply for joint credit, and if I would like to add an authorized user to my credit card. These features may apply to uses who wish to take advantage of them.
After submitting the application form, I had to wait seven to 10 business days to receive a decision. It is worth noting that the bank may ask for additional documents as they review applications. The credit limit will be based on the documents and information provided.
Eligibility Requirements and Qualifications
One of the main requirements for getting a credit card from the First Nations Bank of Canada is to be at least 18 or 19 years of age depending on the laws of my province. Apart from this, I should also be a resident or a citizen in Canada.
Besides the age and residency requirements, the financial institution may ask for other supporting documents. These include proof of identification, proof of address, and employment information.
Understanding the Corresponding Charges
Owning a credit card is a huge responsibility. This is why before I apply for a credit card, it is important that I review all the fees and charges that come with it. This way, I can avoid getting surprised by any fees and so that I know just how much I need to prepare myself.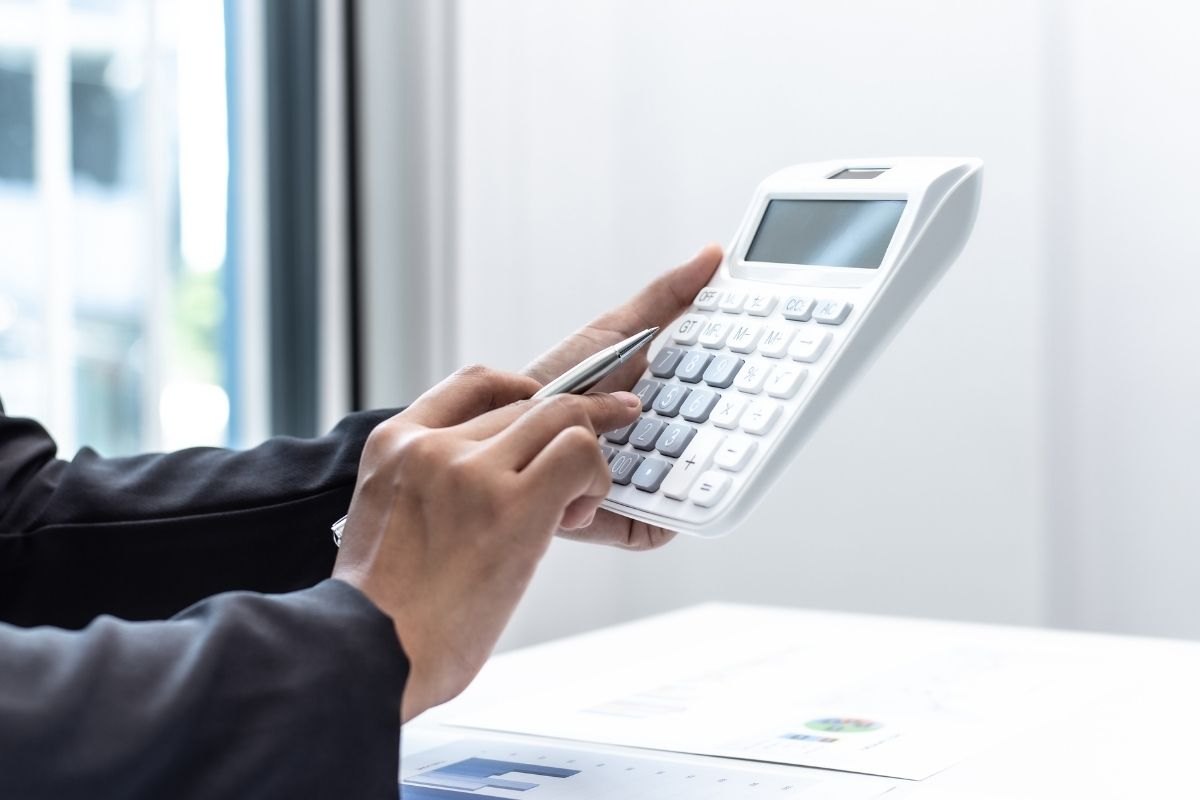 I find that going over the fees and rates is also a great way for me to familiarize myself with the payment policies of the bank.
Rates and Fees for the Visa Classic Card
Below are the charges for the First Nations Bank of Canada Visa Classic Card.
Annual Fee – $0
Additional Card Annual Fee – $0
Interest Rate for Purchases and Cash Advances – 12.99% (this rate can go up to 24.99% if cardholders fail to make payments for 90 or more days)
Minimum Payment Due – 2% of the new balance or at least $40 (or the whole balance if the amount owed is less than $40)
Foreign Currency Conversion Charge – 2.5%
Cash Advance Fee – $3
Late Payment Fee – $0
Over Limit Fee – $0
Managing Your First Nations Bank Credit Card
There are various ways I can manage my Visa Classic Card from the First Nations Bank of Canada. The first, and perhaps the easiest way to do this, is to make online payments through my MyCardInfo account. This is where I can also keep tabs on my transactions as well as see deadlines for payments.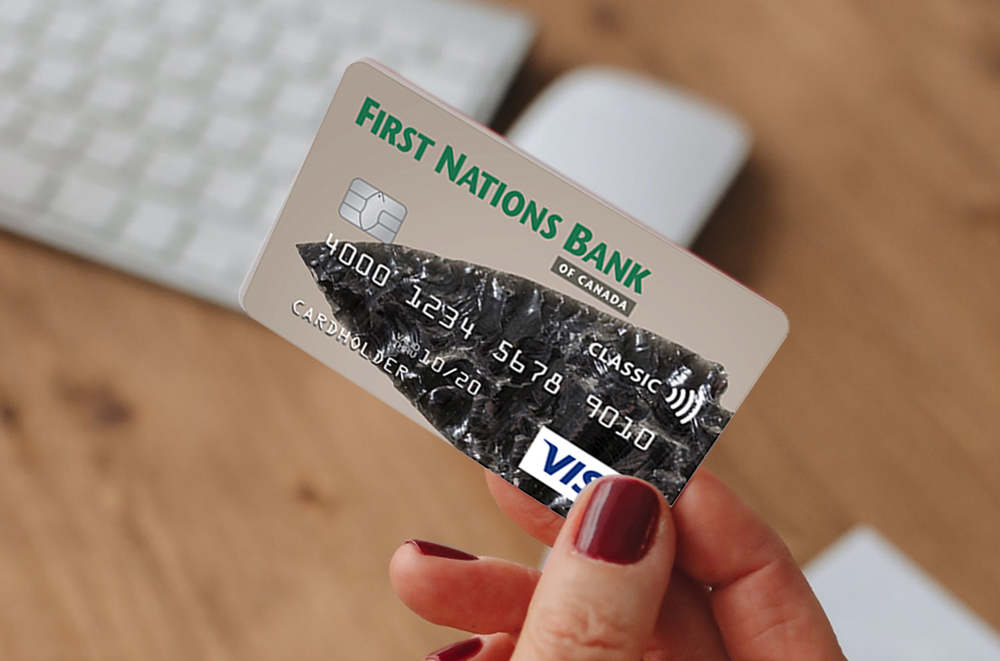 First Nations Bank of Canada have a dedicated mobile app that can either be downloaded through the App Store for iOS users or on Google Play Store for Android users.
Besides paying bills and managing my account, I can also make deposits and transfers. Even better, I can easily see the rates provided to me. Another way I can go about managing my credit card payments is by visiting a branch near me and making payments directly through them.
Lastly, I also have the option to mail my payment to the payment address located at Collabria, the First Nations Bank of Canada's partner. Their Visa Payment Address is located at CP 6417 SUCC Centre Ville, Montreal, Quebec H3C 3L4.
Bank Address and Contact Information
The First Nations Bank of Canada's headquarters is located at 300 – 224 4th Ave South, Saskatoon, SK, S7K 5M5. Those who want to reach out and make an appointment with the bank can call its main office number at 1-306-955-6739 from Mondays to Fridays from 8:30 AM to 5:00 PM.
Alternatively, for credit card application inquiries, interested individuals may contact 1-855-341-4643 or send an email to [email protected]. This is also where current cardholders can reach the bank for any concerns they might have.
Final Thoughts
For those like me who want to get a credit card that's best for beginners and that's packed with safety features, a First Nations Bank of Canada credit card is the way to go. I hope that through this guide, I have helped you apply for a credit card under this financial institution.
Disclaimer: There are risks involved when applying for and using a credit card. Please see the bank's Terms and Conditions page for more information.
References
First Nations Bank of Canada – First Nations Bank of Canada – Business
Visa Classic Card –
Visa* Classic Card – First Nations Bank of Canada

App Store –
‎FNBC on the App Store