Getting a credit card can be a great way to consolidate your debt or cover unexpected expenses. With that in mind, it is important to look for an option that is highlighted by friendly fees and a cash-back program.
That is what the SoFi credit card offers. Next, I will discuss how it works, what features you can expect with this card, and whether or not there are any downsides to owning one. Let's get to it!
What Is the SoFi Credit Card All About?
How to Apply for a SoFi Credit Card
What About the Rates and Fees?
A Friendly Rewards Program
Redeeming SoFi Points
A Possible Welcome Offer
Other Member Benefits
Are There Any Downsides to the SoFi Credit Card?
Are There Any Alternatives?
Bank Contact Details
What Is the SoFi Credit Card All About?
Before I get into the details of how this credit card works, it is important to look at certain attributes of the card. With this option, there is no cashout minimum, annual rewards cap, or foreign transaction fees.
It is a great choice for anyone who wants to use a credit card without spending days figuring out the hidden costs and redeeming the benefits.
One of the coolest perks of SoFi is that you can manage all of your finances through a single account.
That means that you can opt for a loan, settle your budget, and invest from the same SoFi platform. The convenience of an all-in-one financing website/app is the selling point of this product.
Versatile Target Groups
This credit card is an excellent choice for just about anyone.
As mentioned above, you can use it to pay off a loan, start investing, or simply monitor your finances.
In addition to that, there aren't any category restrictions in terms of the moneyback program, making it a fantastic choice for everyday spending.
How to Apply for a SoFi Credit Card
The application process is straightforward and won't take more than 10-15 minutes. The first step is to make sure that you meet the eligibility criteria.
The main requirement is that you are 18 years old or above the legal age in your state of residence. The second is that you are a permanent resident or a citizen of the US.
Your credit score needs to be above 700, which is a little high, especially if you have had a bad credit history and are looking to consolidate your budget.
After you've checked if you are eligible, you can go to the official website and fill in all of the required information.
Waiting Time
If you are already a member of SoFi, the software will pre-fill the basic information for you.
You should receive an answer on whether you are approved within just a couple of hours.
After the confirmation, it shouldn't take more than 2-4 business days for the credit card to arrive at your residential address.
What About the Rates and Fees?
Another highlight of this credit card is the fact that you won't be paying any annual fees. In addition to that, it is great for traveling because SoFi doesn't charge anything for foreign transactions, either.
The annual percentage rate is set anywhere between 12.99% and 24.99%, depending on your credit score and the current prime market rate.
Bear in mind that the aforementioned APR is set for purchases and balance transfers, and you will be charged 26.99% of the sum for any cash advances.
As for other fees, you can expect a single balance transfer/cash advance to cost you $10 or 5% of the sum, depending on which one is greater.
Are There Any Hidden Fees?
Fortunately, there are no hidden fees, but you can incur a late payment fee or a returned payment fee of up to $39.
Other than that, SoFi's rates and fees seem to be quite friendly.
A Friendly Rewards Program
A versatile cashback program can make an average credit card seem like a fantastic investment.
When it comes to SoFi, there aren't any restrictions regarding earning rewards, and each point is worth one cent.
Unlike most of its competitors, you can expect to earn reward points at a fixed rate of 2 points per $1 spent. There aren't any spending categories or annual rewards limits.
Judging by our own experience and a survey conducted by Forbes, the total cashback sum can exceed a few hundred dollars on a yearly basis.
How Much Can You Earn?
This all depends on your spending habits.
The equation is simple — multiply the average amount that you spent (for the year) by 0.02.
And the answer is the amount of money that you will earn through the SoFi cashback program.
Redeeming SoFi Points
Earning 2 points per dollar spent wouldn't be any good if you can't spend the money.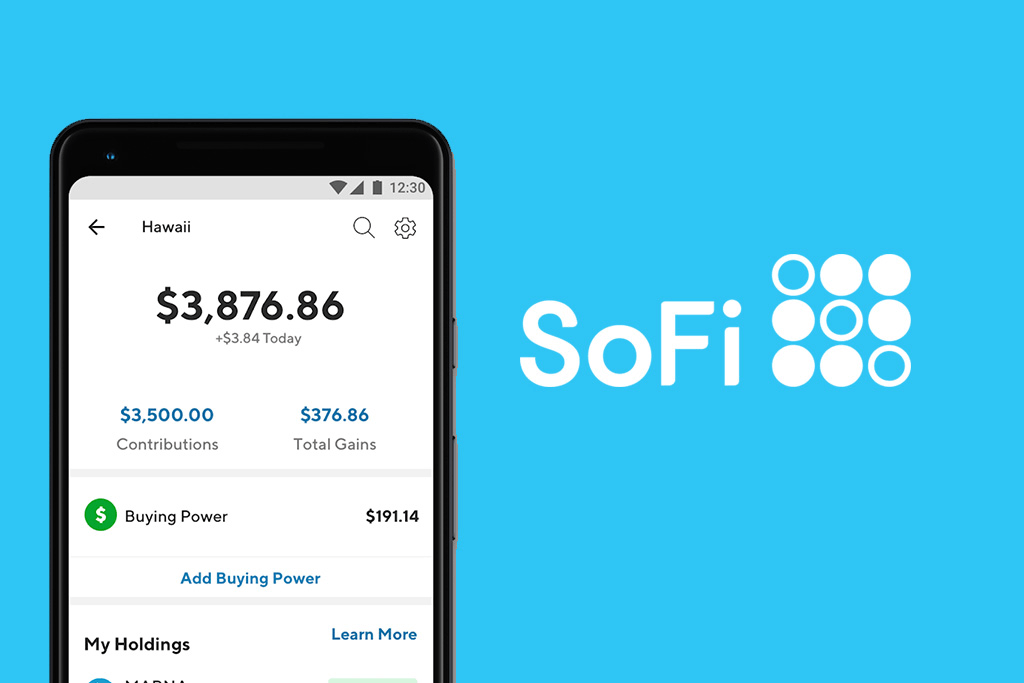 Fortunately, SoFi ensures that there is a wide variety of redemption options, including withdrawing the earned points to your SoFi account, settling a loan with it, or investing it into cryptocurrency.
While the fact that you need to keep an open SoFi account to have your funds may be annoying for some of you, the reward points can be treated as real money.
Thus, you can pay your bills and withdraw that cash at an ATM.
What About Cryptocurrency?
Unless you are a resident of Hawaii, West Virginia, or Nevada, you can happily redeem the SoFi points to Bitcoin or Ethereum.
What you will need is a SoFi Invest and a SoFi Crypto account.
A Possible Welcome Offer
Apart from the rewards program, there is also a welcome bonus that you can be eligible for once approved for the SoFi credit card.
The main requirement is that you will fund your SoFi Money or SoFi Invest account to receive the offer.
The bonus sum is up to $100.
While it is good that there is a welcome offer, I have to say that some of its competitors provide you with a bonus sum after fulfilling a certain spending requirement.
Cell-Phone Protection
As a member of the SoFi platform, you are eligible for a $1,000 insurance policy in case your phone is stolen or lost.
What you get are two $800 claims that are renewed every 12 months.
Other Member Benefits
In addition to cell phone protection, you can also take advantage of EMV chip technology and ID theft protection.
Not only that, but SoFi did a great job developing an intuitive mobile wallet through which you can monitor your finances, pay off loans, and invest in cryptocurrencies.
Apart from the benefits mentioned above, owning a SoFi credit card also makes you eligible for World MasterCard Benefits.
These include discounts on concierge services, cheaper Lyft services, and a wide variety of other discounts that are related to traveling abroad.
APR Discounts
Last but certainly not least is the fact that you can affect the annual percentage rate by making 12 on-time monthly payments.
Doing this will result in a discount of at least 1%.
Are There Any Downsides to the SoFi Credit Card?
The rewards program is friendly considering that you are getting 2 points per dollar spent.
Still, if you do not withdraw the points to a SoFi account, you will only get 50% of that. Thus, it isn't ideal for those of you who are more concerned about statement credit.
As mentioned above, it is good that SoFi offers a welcome bonus, but it is rather mediocre and requires that you fund your SoFi Invest or Money account to get the bonus.
Exclusive for SoFi Loans
Keep in mind that you can't use the rewards points to settle private or federal loans.
The only option is to redeem the rewards for a SoFi student loan.
Are There Any Alternatives?
While the SoFi credit card is a great option for everyday spending habits, PayPal offers a relevant alternative.
It is highlighted by a $0 annual fee and offers a similar rewards program as you will receive 2 points for every dollar spent.
All the points can be redeemed through PayPal only, though.
Still, I consider the SoFi to be a friendlier option for settling your debt due to the aforementioned incentives and APR discounts.
Citi Double Cash Card
One of the coolest points of this Citi credit card is that you can redeem points through a ThankYou program and get discounts on airline tickets.
In addition to that, the 2% rewards and $0 annual fee are also huge advantages.
The sphere in which SoFi is a better choice is international traveling, as the Citi Double Cash Card charges 3% per foreign transaction.
Bank Contact Details
SoFi offers a wide variety of contact options for you to get in touch with them.
The first one is to visit them at the main office, located at 2750 East Cottonwood Parkway #300, Cottonwood Heights, Utah 84121.
Also, the SoFi Credit Card support team is available 24/7 and can be reached via telephone at (844) 945-7634.
Additionally, you can contact them at their Twitter page @SofiSupport.
FAQs
At the end of the day, the platform offers an extensive FAQ page through which you can find most of the answers related to account opening and the available benefits.
Summary
While there is always room for improvement, such as introducing a better welcome bonus, the SoFi Credit Card is a great choice for everyday spending. In our opinion, it is one of the best financing methods for people who want to invest, settle their loans, and monitor their finances through a single platform.
Note: There are risks involved when applying for and using credit. Consult the bank's terms and conditions page for more information.