When talking about building credit especially for people without a prior credit history, I usually think of getting a secured credit card or loan and a credit builder card or loan. Another option is to get a co-signer.
Imagine my surprise when I learned that there's an app that can be used to build credit. This can be done without having to get a credit card or getting a family member or friend co-sign an application.
In this article, I will talk about the Pave app, a mobile app aimed at building credit without taking on more debt. I will also discuss its features, how it works, and how to download and install it on your mobile device.
Why Is It Important to Build Credit?
Understanding the Pave Service
Exploring the Features of Pave
How Pave Works as a Credit Builder
Pave Memberships and Their Benefits
Fees, Eligibility, and Other Details to Remember
Downloading and Installing the Pave App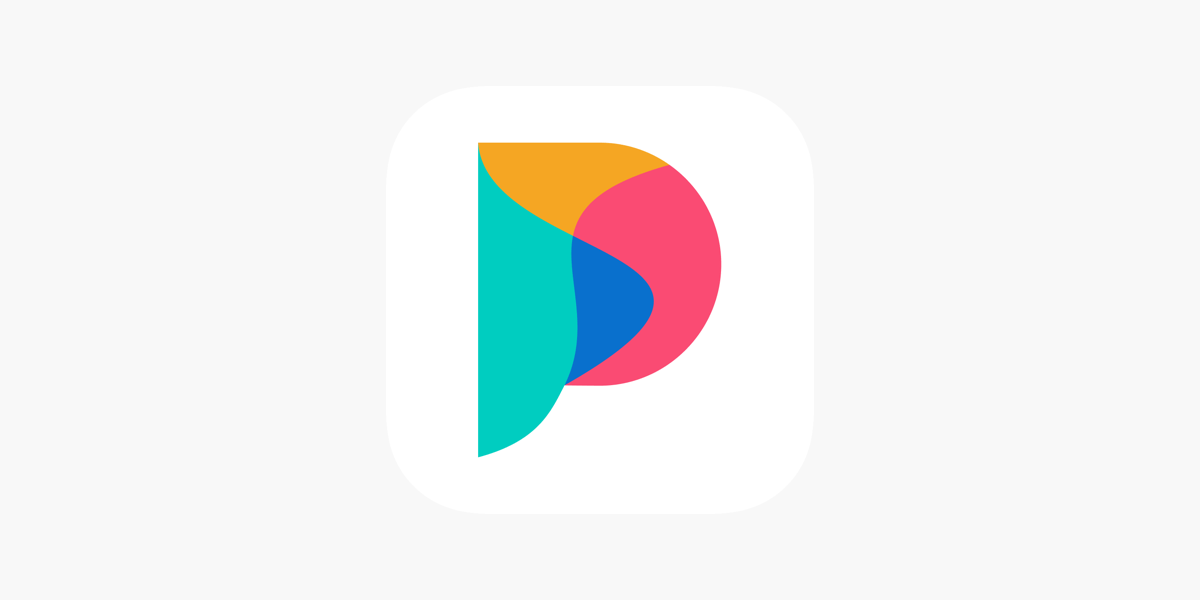 Why Is It Important to Build Credit?
Before I get into the Pave app, I want to first talk about why building credit is important. When you're applying for a new financial product such as a loan or a credit card, lenders will check your credit history to decide if you are worthy of approval.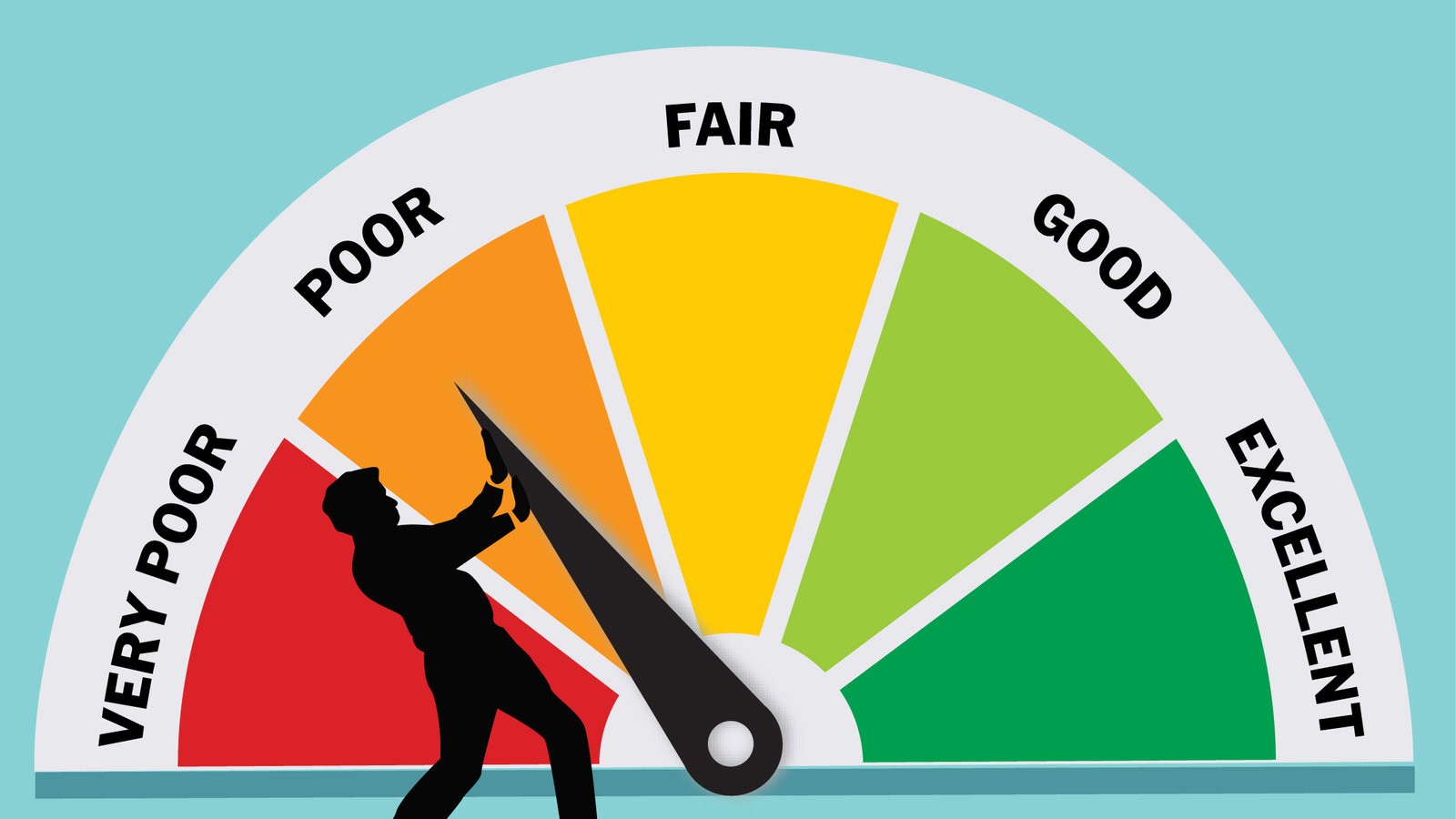 I want to emphasize that having good credit will allow you to get lower interest rates on these products. This will save you a significant amount of money on interest payments, enabling you to use this savings on other stuff.
For job seekers, I learned that some employers even check credit reports on candidates to check for red flags like delinquencies before making a job offer. This means that your credit score can potentially make or break your career.
Other Benefits of Building Credit
Aside from getting better approval rates on financial product applications and receiving lower interest rate offers, I discovered other benefits to building your credit score.
People with higher credit usually qualify for the best terms, such as a higher credit limit on a credit card or a bigger loan amount on a mortgage. They are also offered options for longer repayment periods.
Lastly, credit cards with great bonuses and perks are only usually available to those with an excellent credit score. If you don't have good credit, you'll miss out on things like free trips and dinners.
Understanding the Pave Service
Now that I've discussed the importance of building one's credit, it's time to focus on Pave. It's a subscription service that allows its users to improve their credit scores.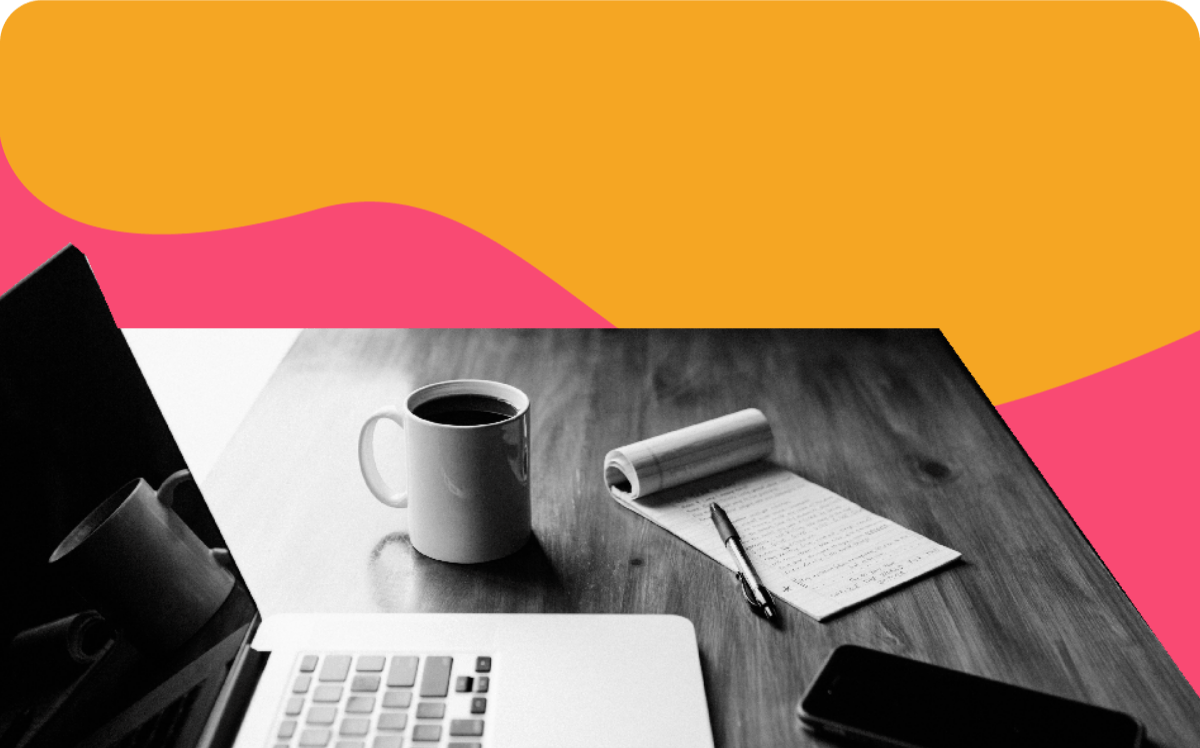 I like how it also doubles as a personal finance management app by providing advice on how to manage my budget. The app will also keep me in the loop about my income and how I spend it.
In the past, the service was directed toward freelancers and it has built up its user base through partnerships with gig economy platforms. However, anyone can sign up directly using the app.
About the Company
Pave was founded in 2017 as Portify by its CEO Sho Sugihara and CTO Chris Butcher. They created Pave based on their belief that the UK's financial system doesn't make it easy for people because they're being pushed to incur more debt.
The company secured £7 million in funding in December 2019 from several investors, including Entrepreneur First and venture capital firms Kindred Capital and Redalpine.
Pave was named the Best Credit Building Product in the 2021 Consumer Credit Awards. In addition, Moneynet named the company the Best New Personal Finance App in 2021.
Exploring the Features of Pave
The question that came to mind when I first heard about Pave was "How do I build my credit by simply using an app?" Pave does this in three ways, namely bills monitoring, personalised credit fixes, and active credit building.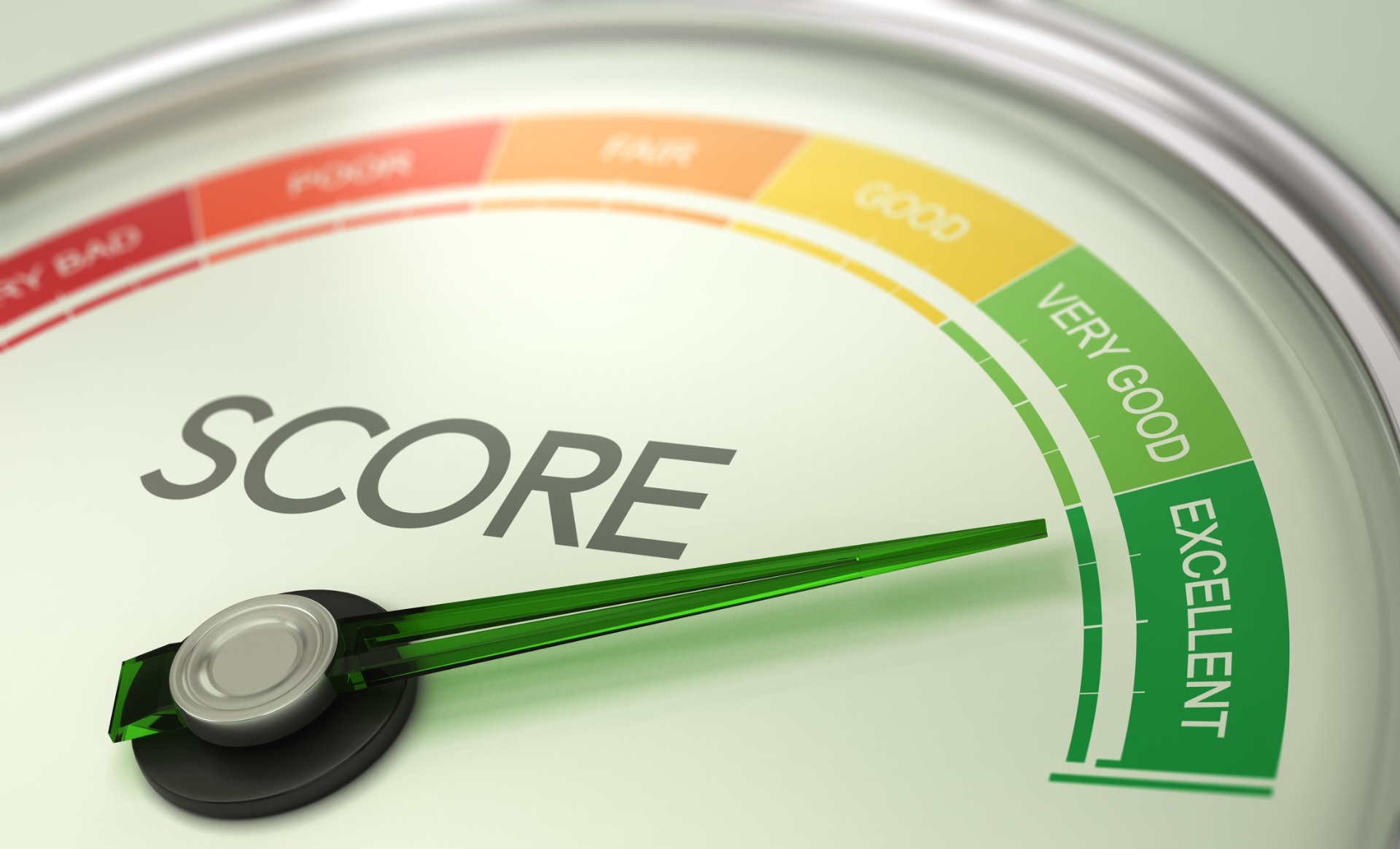 The service helps me keep track of and ensure bill payments are made on time. The system, which is very easy to use and personalise, also gives me insights into how I spend and provides an analysis of my cash flow.
These data enable me to see how to improve their credit scores the fastest. Additionally, Pave also provides exclusive offers and discounts at certain retailers.
Other Features
I found out that to actively build customers' credit scores, Pave shares information with credit bureaus on their credit utilisation and payment history.
It's able to do this because users are asked to link their bank account to the app. However, it's only given permission to access bank data in read-only mode and is not able to conduct any transactions.
With a low monthly fee, Pave can help track and improve my credit score through Equifax, Experian, and TransUnion.
How Pave Works as a Credit Builder
I discovered that the reason why Pave needs access to my bank account is to be able to analyse my credit file and come up with personalised methods to fix and boost my credit score in the most efficient manner.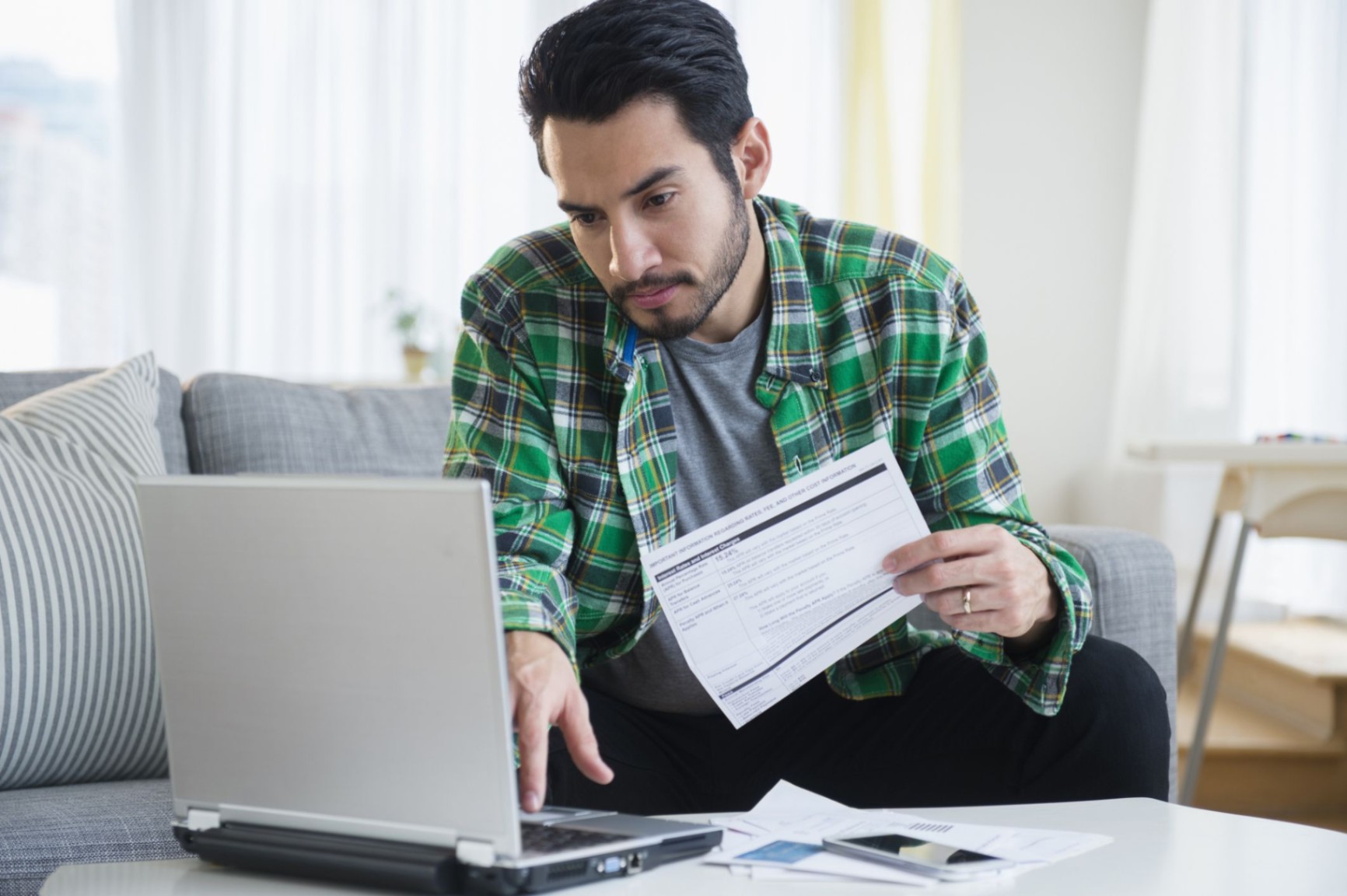 One of these methods is to make sure that bills are tracked and paid on time. The app reminds me of upcoming bill payments that I need to make and if there's enough money in my bank account to pay them.
I also understood that with a Pave membership, the fees are reported as credit repayments. If I paid religiously during the 12-month contract, it will demonstrate my capability of making on-time payments.
Improving Credit Usage and History
Because a person's credit score is partially based on the golden rule of 30% credit usage, it's important to make sure that it's at a desirable level. To help improve credit usage, Pave opens a credit line for customers but this is subject to eligibility.
Meanwhile, credit history comprises 35% of my credit score so improving it is a no-brainer when it comes to building credit. The service helps with this by sharing my payment history with the credit reference agencies mentioned earlier.
Pave Memberships and Their Benefits
Pave offers a free account called Pave Basic, wherein the service will scan for recurring subscriptions and bills once a bank account is connected. The system will then send alerts to encourage paying on time.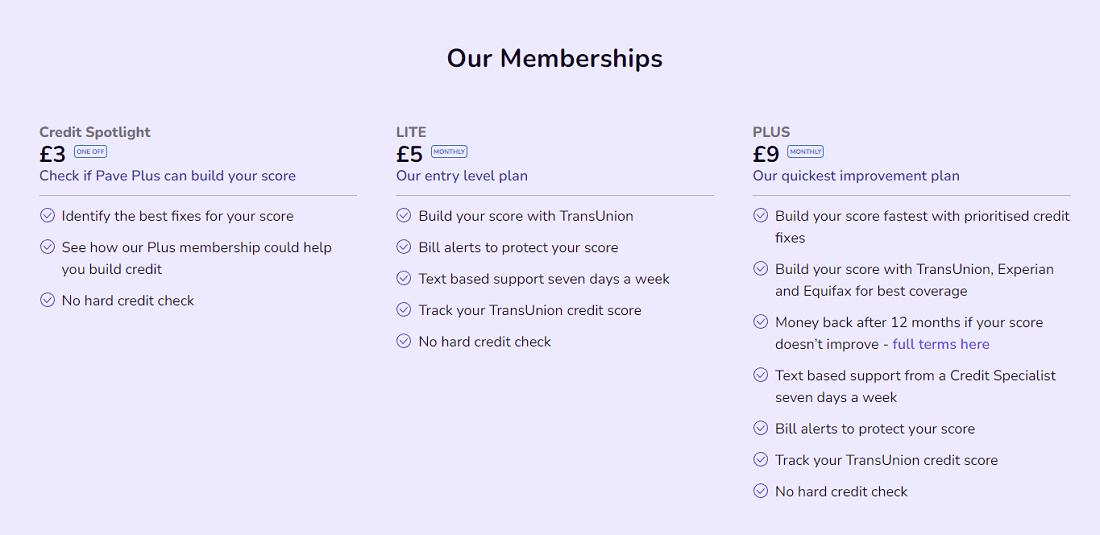 Credit Spotlight, which costs £3, is a one-off service that can be used to determine whether getting a Pave Plus can build my credit score. It determines ways to improve my score but does not involve a hard credit check.
Meanwhile, the Lite membership at £5 monthly is Pave's entry-level plan which helps build and track users' credit scores with TransUnion. It not only sends bill alerts, but also provides text-based support seven days a week.
Perks of the Pave Plus Plan
Lastly, Pave claims that its Plus membership plan is its quickest way to improve my credit score. It does this through prioritised credit fixes and for the best coverage, it uses TransUnion, Experian, and Equifax.
Like the Lite plan, it also provides text-based support from a credit specialist and sends out bill alerts. Pave Plus uses TransUnion for tracking my credit score and also does not conduct hard credit checks.
What impressed me is that Pave offers a money-back guarantee after 12 months of using the Plus membership if my credit score does not show any improvement.
Fees, Eligibility, and Other Details to Remember
I like how Pave does not impose any hidden fees aside from the membership fees and it has a 0% annual percentage rate (APR). Anyone with a mobile device can download the app and use it for budget management.
To be eligible for a Pave membership, I need to connect my main bank account and make sure that it has at least 60 days of account history. In the last 12 months, I also shouldn't have received a county court judgement (CCJ).
Also, I must not be going through bankruptcy or have been placed on a debt management plan or individual voluntary arrangement (IVA) in the past 12 months prior to application.
Company Contact Information
For queries and concerns, you may visit Pave's frequently asked questions (FAQs) page or email [email protected]
The company's headquarters is located at 31 Great Sutton Street, London, England, EC1V 0NA.
Downloading and Installing the Pave App
The budget management functions as well as the credit score monitoring and improvement features are all accessible via the mobile app. Thankfully, it's available to both Android and iOS users.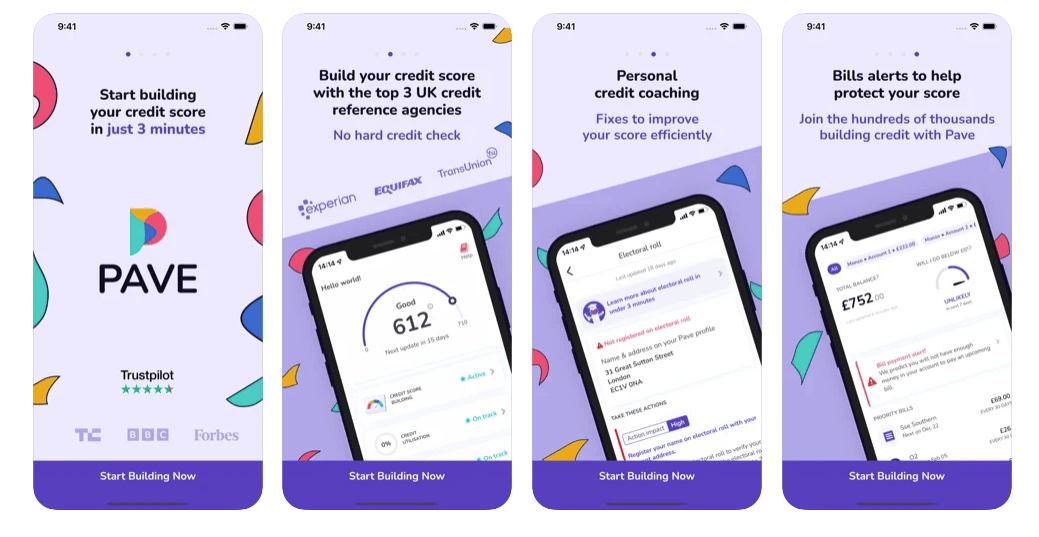 For Android users, the app can be found on the Google Play Store in the Finance category under the name "Pave (Formerly Portify)". It has a rating of 4.1 out of 5 stars based on more than 1,200 user reviews.
The app, currently on version 7.1.1, has a file size of 56 MB and requires Android 5.0 and up to function properly. Tap on the Install button to begin downloading and installing the app on your device.
Pave App for iOS
On the other hand, iOS users will find the app in the Apple App Store also in the Finance category under the same name as its Android counterpart.
Currently, the Pave app has a rating of 4.7 out of 5 stars based on more than 2,500 user reviews. It is only available in the English language.
The app has a file size of 48.5 MB and requires iOS 11.0 or later for both the iPhone and iPod touch. To download and install the app on your Apple device, simply tap on the Get button.
Conclusion
For someone like me who doesn't want to get another loan or credit card to improve my credit score, the Pave app serves as a great alternative to achieve this goal. I'd say the membership fee is more than worth the benefits that it offers.
Note: There are risks involved when applying for and using a credit card. Consult the bank's terms and conditions page for more information.