As someone who enjoys traveling, I am on a never-ending quest to find the perfect credit card. There is a bunch of factors that I consider, including the fees and interest rate, potential benefits, and cashback programs.
Going by this, I came across the Chase Sapphire Preferred that is advertised as a suitable choice for those who travel for both business and pleasure. Read on to find more about what are its advantages and downsides.
What Is the Chase Sapphire Preferred Card?
Fees and Interest Rate
An Attractive Sign-Up Bonus
How to Apply for Chase Sapphire Preferred
A Set of Perks Including DoorDash and Peloton
Travel and Shopping Protection
Earning and Redeeming Points
Competitors of Chase Sapphire Preferred
Downsides of the Chase Sapphire Preferred
Bank Contact Details
What Is the Chase Sapphire Preferred Card?
Right off the bat, I was pleased to see that this credit card is suitable for experienced credit card users and newbies.
It is highlighted by a reasonable annual fee of $95 while offering an innovative loyalty program for those who travel every week.
The Ultimate Rewards miles are considered to be the ideal credit card currency for the impressive transferability and great point to dollar ratio.
The main reason why I recommend Chase credit cards to my friends is because of the many travel perks.
A Credit Card to Start With
I always emphasize that this bank goes by a 5/24 rule which means that I can't open more than five different credit cards in two years.
As a credit card reviewer, I am commonly asked what is the best choice for someone who is just getting started and wants to enjoy travel/dining benefits.
Judging by reasonable fees and interest rate (which I will discuss below) and a sign-up bonus of up to $2,000, I would recommend the Chase Sapphire Preferred.
Fees and Interest Rate
I start with the pricing and terms whenever I am looking for a credit card to review.
I was satisfied with the annual percentage rate set between 15.99% and 22.99%, depending on the prime market rate and credit score. The APR is the same for purchases, balance transfers, and loans.
It is important to know that the cash advance fee is different, fixed at 24.99% APR. In addition to that, the penalty APR whenever it applies is set at 29.99%, which is pretty high for a travel credit card.
Fortunately, I pay off any credit card debt through micropayments avoiding any stress and late payment charges.
Other Transaction and Penalty Fees
As mentioned above, the annual fee is set at $95, which isn't that scary considering what I got in return.
The balance transfer fee is set at $5 or 5%, depending on which sum is greater, while the cash advance is set at $10 or 5% of the total sum.
It is important to know that the late payment and return payment fee are set at $40.
An Attractive Sign-Up Bonus
One of the most fantastic points related to the Sapphire Preferred card is the fact that it offers a superb bonus of up to $2,000.
Unlike most of its competitors, the requirements aren't that complicated. It all came down to me spending $4,000 from the first 90 days of account opening.
In addition to that, the Sapphire Preferred offers a wide variety of accommodation and airline discounts/bonus points, making it pretty fun to reach the sign-up goal.
Set at 100,000 miles with each Ultimate Rewards point worth 2 cents, it is probably the best bonus that I could get for an annual fee of $95.
Remember the 5/24 Rule
What everyone applying for the Chase Sapphire Preferred should consider is the fact that the bank doesn't allow its users to acquire more than a single starting bonus in 48 months.
Thus, if you've already opened a Chase Sapphire Reserve, you won't benefit from this credit card.
How to Apply for Chase Sapphire Preferred
When it comes to applying for this financial instrument, the process is straightforward. The first step was to visit the official website of the bank and determine whether I met all of the eligibility criteria.
The first requirement is to be a US citizen or a permanent resident and above 18 years old.
The system can't be tricked as it is necessary to provide proof of identity and address while filling out the online inquiry.
The second requirement is to have a credit score that is equal to or better than 690. Those who don't have a good credit score will face a much harder time getting approved for this credit card.
The Application Process
After making sure that I am eligible, I opened the Chase official website and applied through the online form.
It was great that the credit card arrived within a few business days of getting approved.
A Set of Perks Including DoorDash and Peloton
Chase is one of the most successful banks in the USA, and I am not surprised that they are partners with a wide variety of service companies.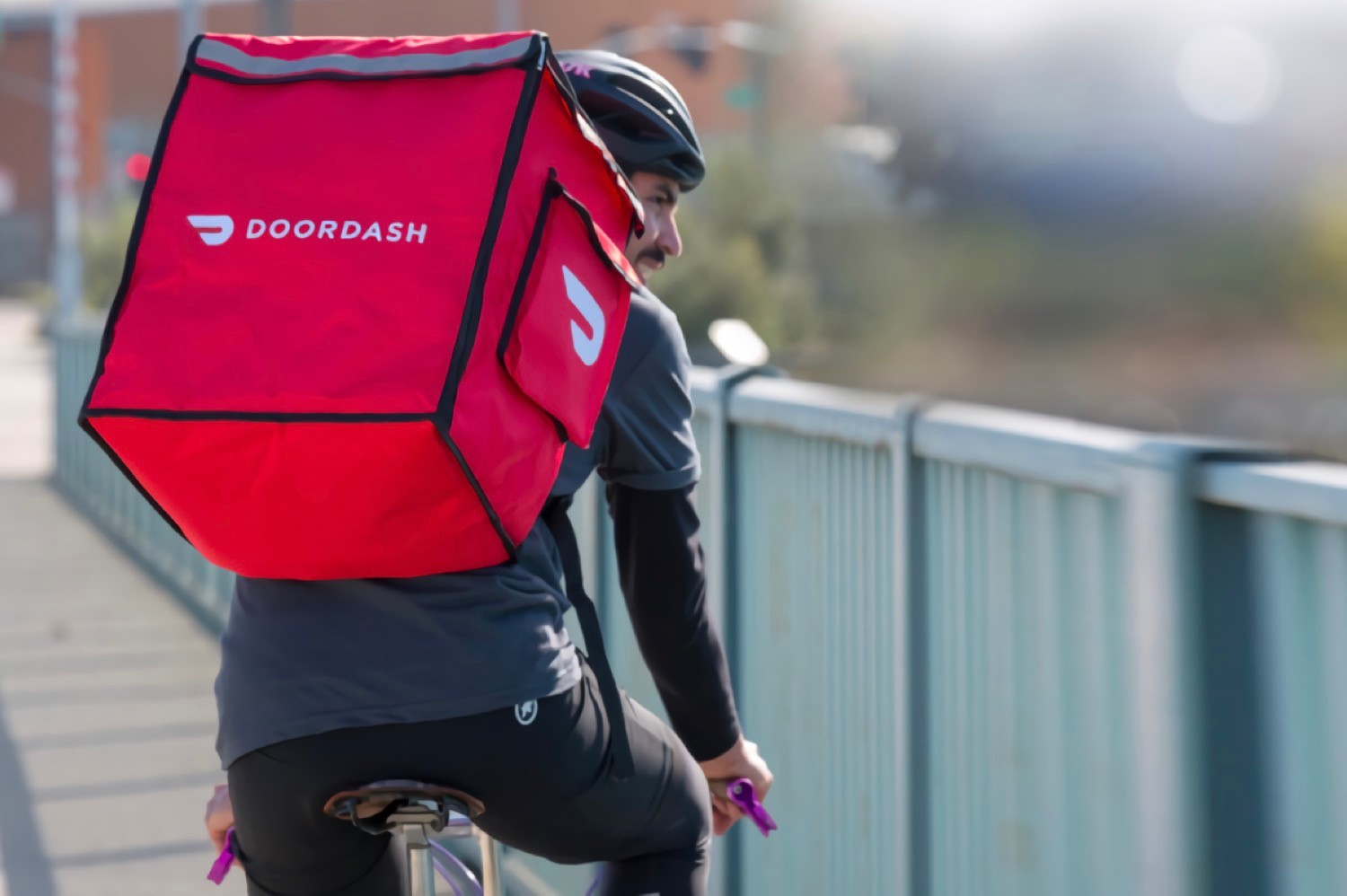 I was pretty happy that only by using the Sapphire Preferred credit card I could enjoy a full year of free deliveries and discounts on purchases made through DoorDash.
It is a great perk for anyone who doesn't like or have time to cook and uses the delivery service regularly.
In addition to not paying the subscription, I was able to lower the price of my order by more than 30% by searching for and activating the Sapphire Preferred bonuses.
Get a Free Workout Plan
Amid the COVID19 pandemic, millions of people, including me, switched from working out at a gym to training at home.
Naturally, the ability to get up to $60 back on an all-access membership or a digital premium plan at Platon is another advantage that I want to highlight.
Travel and Purchase Protection
Other than the service-related benefits, the Chase Sapphire Preferred provides offers travel and shopping protection.
As someone who spends a lot on airline tickets, car rentals, and accommodation, a $500 trip delay insurance (per day) and a cancellation package that covers up to $10,000 is a phenomenal feature.
One of the common traveler's problems is the delayed arrival or lost luggage. Fortunately, this credit card provides all users with a reimbursement of up to $3,000.
In addition to that, primary and secondary car insurance that I wasn't able to find in a bunch of high-maintenance travel credit cards.
Shopping Protection
Apart from being insured from travel inconveniences, I was happy to know that Chase Bank offers $500 insurance per single claim and a total of $50,000 which is a considerable sum.
Not only that but owning this credit card also allows me to enjoy an additional 12 months of limited guarantee for any product that is covered by a 3-year warranty.
Earning and Redeeming Points
The point that I am most impressed with is the cashback program that this credit card offers. The most lucrative category is using Lyft services, as for this, I get 5 points on every dollar spent.
In addition to that, any travel and dining purchase are set at a ratio of 2:1 (point to the dollar) while spending money in any other category lands me a single Ultimate Rewards point.
The greatest point is that the travel category doesn't only include accommodation, hotel expenses, and airline tickets but also transportation by a passenger train, limo, taxi, and paying for a garage lot.
The same goes for dining, which is extensive and includes most US restaurants. The redeeming process is straightforward and comes down to getting comfortable with the Expedia platform.
How to Use Ultimate Rewards Points
One of the biggest benefits of the Chase Sapphire Preferred is that I can pay for my travel trips directly through the acquired points.
The basic ratio is set at 1.25 cents for every point, which can be further increased by becoming a part of the World of Hyatt or the United Mileage program.
To fully benefit from their loyalty program, I suggest you visit the Chase official website and discover the biggest airline and hotel partners of this bank.
Competitors of the Chase Sapphire Preferred
I am a big fan of the Chase credit cards, with one of my favorites being the Chase Venture.
Although I don't use it as frequently as the Sapphire Preferred, it may be a better choice for everyday spending and people who don't travel or dine out that much.
The main advantage of it is that it offers a fixed rate of 2 points per dollar spent and 2 cents per point redeemed.
In addition to that, the $100 credit for covering the TSA ProCheck statement comes in pretty handy.
Easy to Redeem
Still, the main reason why I find the Sapphire card to be a better option is for its impressive startup bonus and the fact that it is highlighted by a wide variety of travel and dining discounts.
Yes, the Venture credit card doesn't make a difference between purchasing a bag of chips, and an airline ticket as the ratio is set at 2:1 for both categories.
However, the ability to pay for airline tickets and accommodation through Ultimate Rewards points and thus get better offers is hard to compete with.
Downsides of the Chase Sapphire Preferred
Much like with any other product, I found a few downsides to using the Chase Sapphire Preferred. The first one is that it doesn't offer an interest-free period.
There is a wide variety of travel credit cards that provide their users with the ability to skip paying APR for the first 12 or more months (balance transfers or purchases).
Not only that, but the fact that the Chase Venture does and the Sapphire doesn't offer the Global TSA credit is another downside.
The same goes for not covering hidden airline fees.
Annual Fee
While the $95 yearly maintenance is reasonable for me, given that I travel on a regular basis, this isn't the case for everyone.
I realize that it may not be as great for anyone else who doesn't reap the travel benefits and wants to use this card for everyday spending.
Bank Contact Details
My opinion is that no matter how good a credit card is, you shouldn't apply for it unless a bank provides reliable customer service.
Fortunately, the Chase bank offers a wide variety of contact forms, including visiting the closest office or directly contacting their corporate headquarters at 1111 Polaris Parkway, Columbus, Ohio.
The first online contact form is the extensive FAQs page that covers almost all the issues. In case that doesn't help, you can always call Chase customer service at 1-800-935-9935.
I've tried it a couple of times, and their operators aren't only very friendly but also incredibly informative.
Social Media
The third option is to get in touch with the Chase customer team by social media, either writing them a Facebook message or tweeting at @ChaseSupport.
Summary
Talking from my experience, this is a great credit card for anyone who is on the go on a regular basis and wants to enjoy a wide array of discounts/promotions in the travel and dining category.
Note: There are risks involved when applying for and using credit. Consult the bank's terms and conditions page for more information.