Finding yourself in a financial emergency is one of the most challenging things you can experience because getting quick cash is never easy. Bank loans take time and if you don't have anything to pawn, you may find yourself trying to borrow money from anyone you know.
The solution is to look for short-term loan providers in your area and try to get a loan. To speed up the process, you may decide to go to multiple lenders and hope that one gives its approval.
This is where MoneyMutual comes in. MoneyMutual enables you to apply to multiple short-term loan providers without having to go from office to office. In this article, I will talk about MoneyMutual, its features, and how to apply for a loan.
Get to Know MoneyMutual
Understand How MoneyMutual Works
Access Payday Loans via MoneyMutual
Get Cash Advance Installment Loans through MoneyMutual
Apply for a Short-Term Loan Using MoneyMutual
Navigate the MoneyMutual Website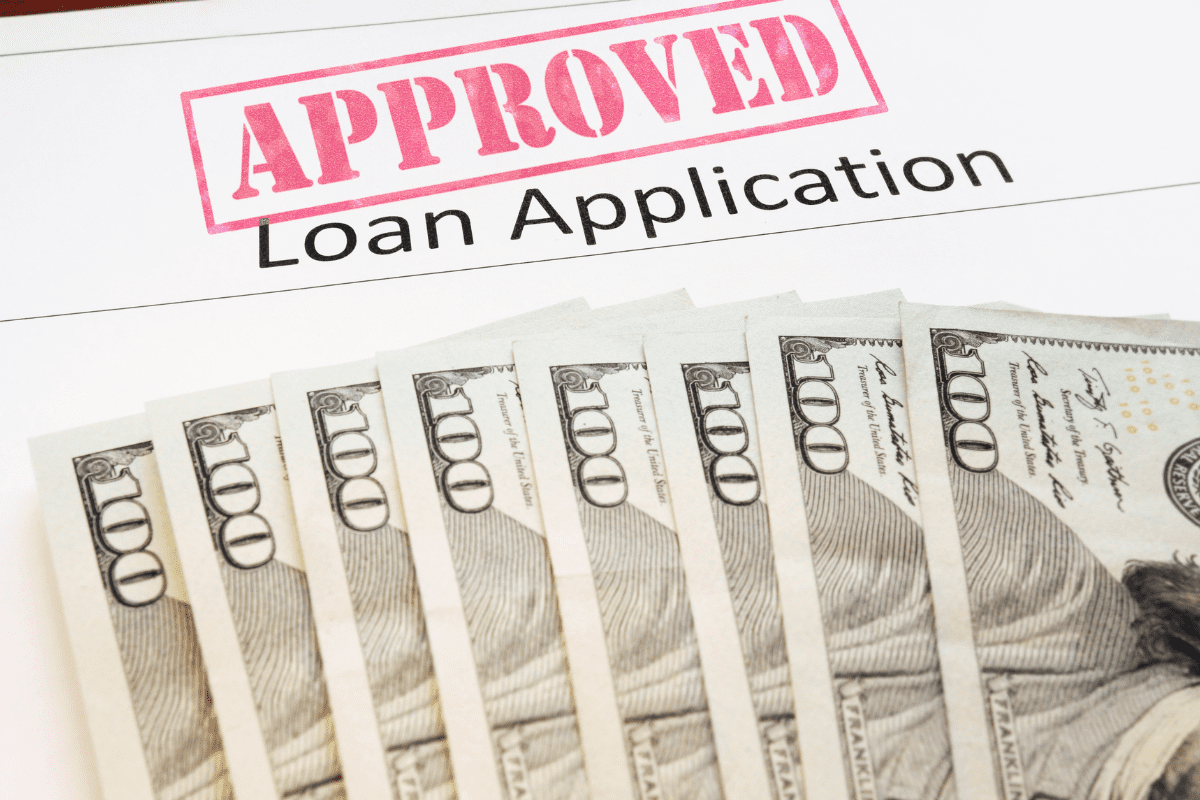 Get to Know MoneyMutual
Before I get into the details of the types of loans you can access through this platform, it is important for you to understand what MoneyMutual is, how it works, and what it has to offer to you as a borrower.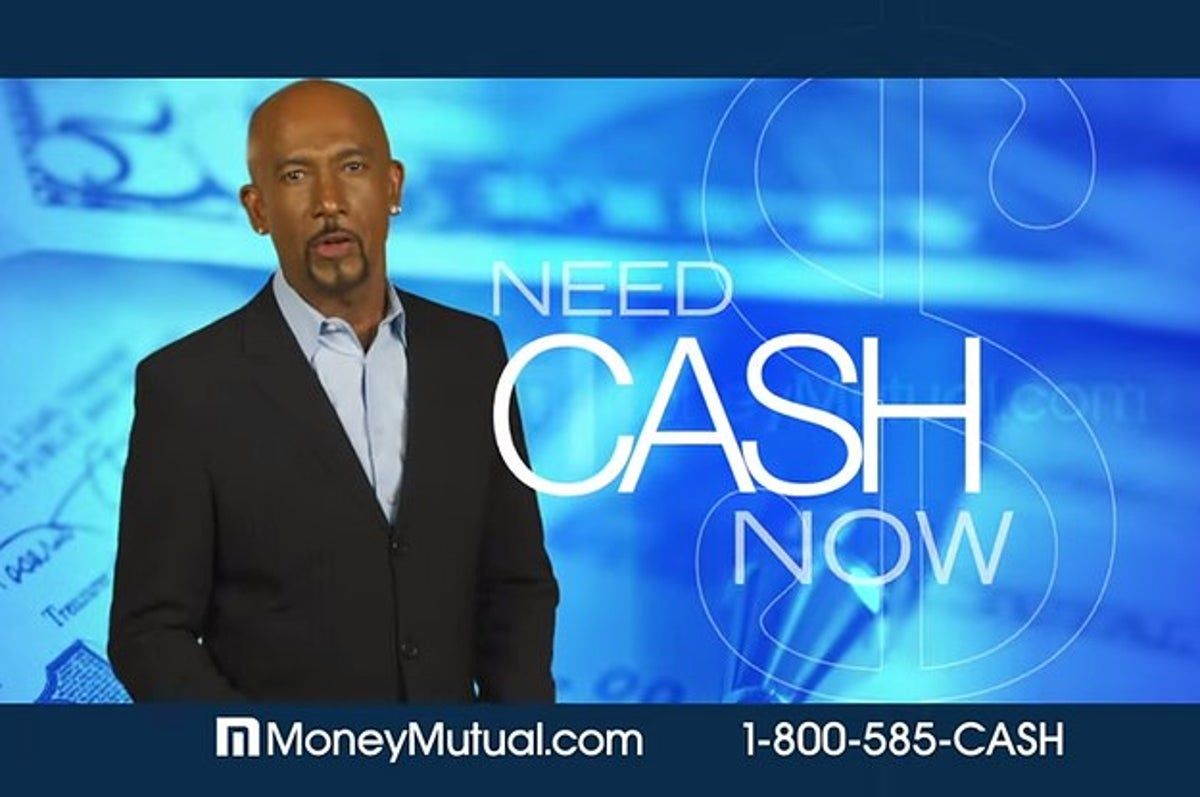 MoneyMutual is an online platform that bridges the gap between borrowers in need of a loan and short-term lenders.
The website points you to local loan providers for different loans, such as payday and bad credit loans.
The website's network of short-term lenders enables clients to choose from a multitude of loan providers and potentially receive loan offers faster. You only need to fill out a single form to get access to these lenders.
How MoneyMutual Began
MoneyMutual began in 2010 after its founders learned that four out of 10 Americans regularly need loans for financial emergencies but choosing a lender could be time-consuming, confusing, or frustrating to them.
Since then, MoneyMutual has been used by over 2 million people and has been helping borrowers by making the short-term loan approval process faster and safer for them.
Motivational speaker and television host Montel Williams served as the spokesperson for MoneyMutual from 2010 to 2018. The platform is a member of the Online Lenders Alliance.
Understand How MoneyMutual Works
It is important to note that MoneyMutual is not a lender and is essentially a platform that acts as a middleman to connect potential borrowers with its affiliated short-term lending companies in their area.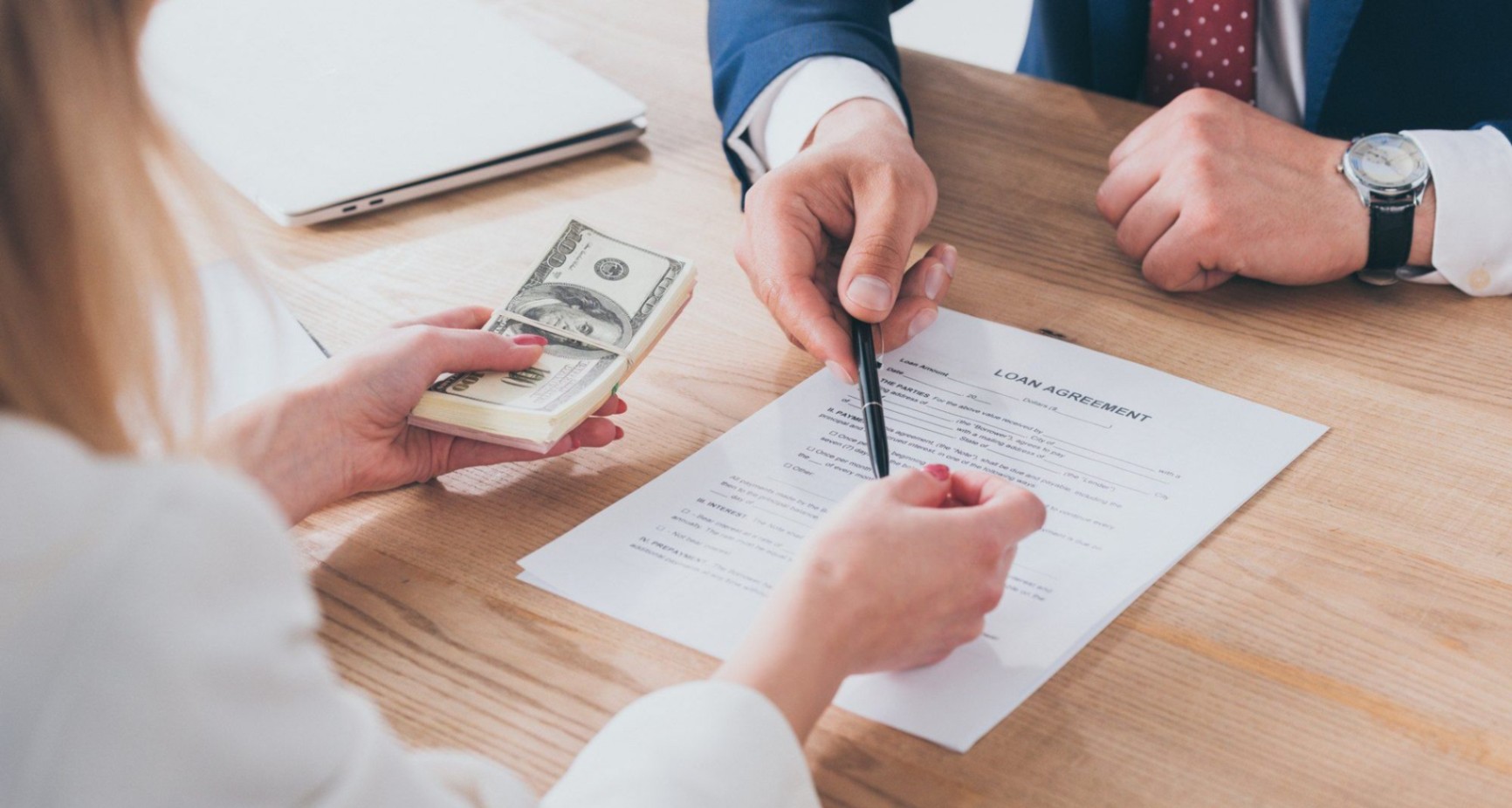 Rather than reaching out to numerous lenders individually, borrowers are able to get access to potential local short-term loan providers by using MoneyMutual's lender network, saving them a lot of time.
If you're a borrower, you only need to use the MoneyMutual website and the platform will do the work of matching you with lending companies within its network.
Features of the MoneyMutual Platform
Not only does MoneyMutual match borrowers who have bad credit or low income with different products offered by various companies, but it also only requires a single application from you to be able to do this.
What's more impressive to me is that for everything that it does for borrowers, it does not charge anything to users so use the platform for absolutely free.
The website is also known to provide excellent customer service and prioritizes online safety and privacy. It uses Norton Secured powered by Symantec for user data encryption.
Access Payday Loans via MoneyMutual
One of the most common forms of short-term loans available nowadays is payday loans. From the name itself, payday loans are signature loans used by borrowers to survive financially until the next payday.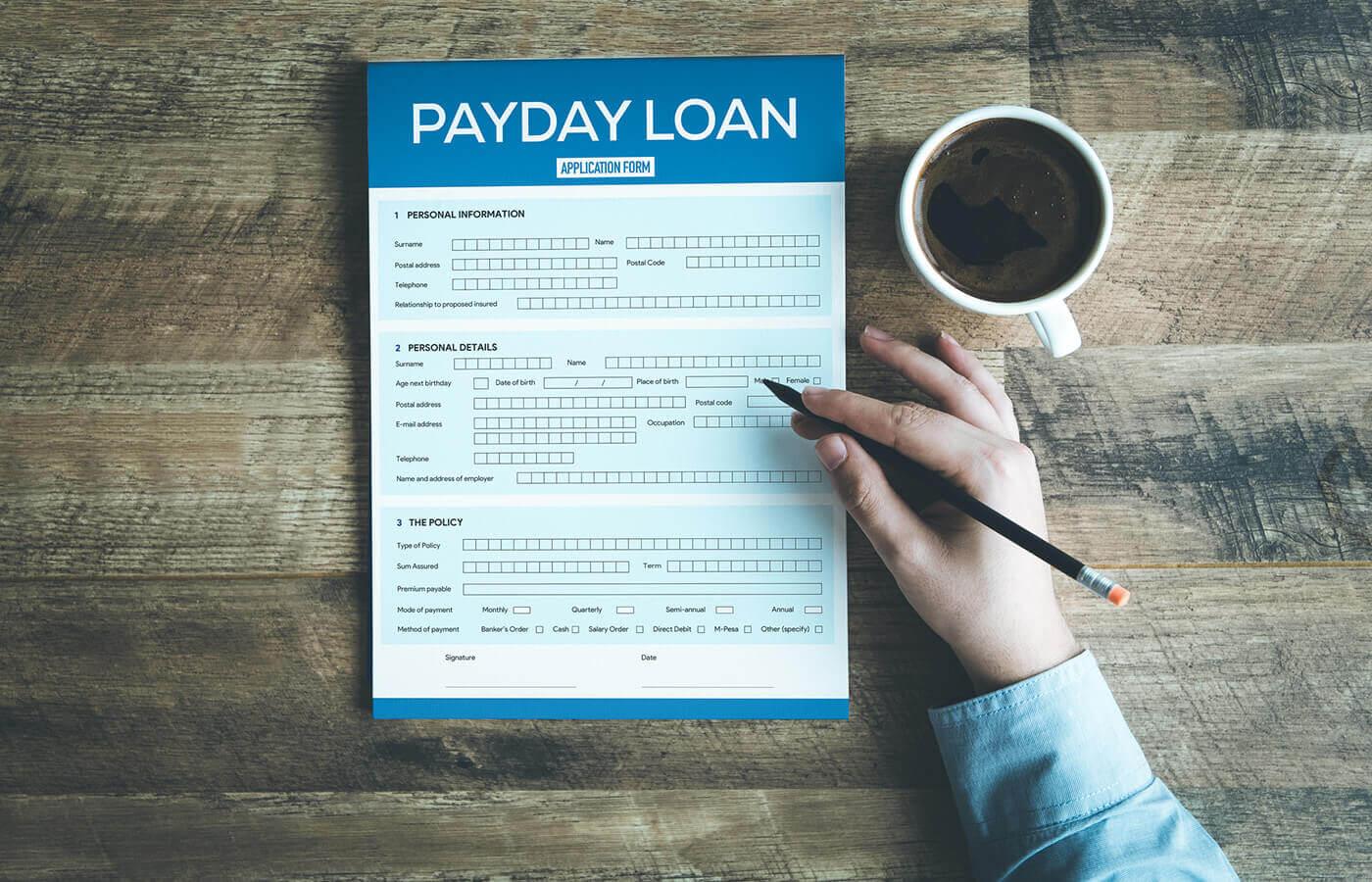 They are typically paid back via your paycheck from work or other income sources, such as pension checks or Social Security benefits. These loans usually have fast approval and accept people with low credit scores.
Part of the loan process is authorizing the lender to withdraw your payment from your bank account on your payday.
Remember that payday loans have extremely high-interest rates and finance charges.
Qualifying for a Payday Loan
It's relatively easy to qualify for a payday loan as long as you have steady employment or a source of income. The most basic requirement is proof of regular income, which can either be from work or some form of benefit.
Under MoneyMutual, you must at least earn a monthly income of $800 to qualify and be a resident of the U.S. and at least 18 years of age.
Some lenders may also require borrowers to have a checking account so that the loan amount can be deposited directly, and payments can be withdrawn every payday.
Get Cash Advance Installment Loans through MoneyMutual
Unlike most short-term loans, cash advance installment loans offer a more flexible option since you can pay them back over several installments instead of the usual lump sum payment.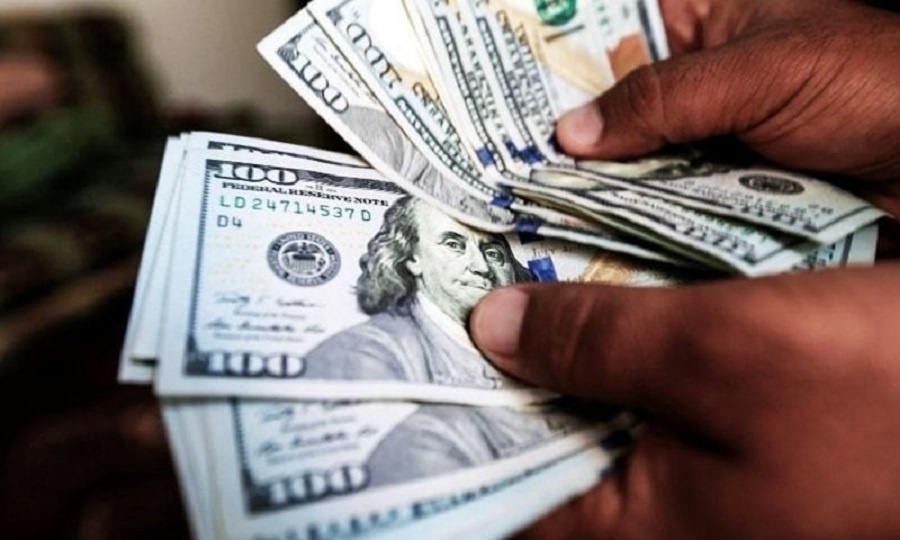 This is a good choice for larger expenses that you need to address which you cannot cover with a single paycheck.
You could get the funds quickly like a payday loan but the lender might break the payment up into multiple transactions.
MoneyMutual's network of lenders also offer cash advance installment loans to borrowers who use the platform to search for a loan. Requirements are the same with payday loans.
Qualify for Loans Despite Bad Credit Score
MoneyMutual is a great way to get approved for a loan despite having a bad credit score. Most Americans get rejected by banks when applying for a loan having bad credit.
That's why when it comes to emergencies, short-term loans are usually the best option for them. Since MoneyMutual forwards your online application, you don't have to waste your time just to get rejected.
The payday loans and cash advance installment loans are some of the short-term loans that you'll be able to access with bad credit through MoneyMutual. However, be vigilant about their interest rates.
Apply for a Short-Term Loan Using MoneyMutual
There are three simple steps you need to know to apply for a loan via the MoneyMutual platform. The first thing you need to do is fill out the site's form and it will be sent for review to lenders in the network.
These lending companies will quickly review your information to assess whether they would like to work with you on a possible loan. If they do, you will be redirected to their own website.
On the lender's website, you will then be asked to complete their forms and review the loan terms.
In most cases, the lender will call you to confirm your personal information and finalize the loan details.
Getting Your Money
If you agree with the loan terms, they may be able to transfer the funds to your account in as fast as 24 hours following the agreement.
I need to point out that the agreement between borrowers and lenders on loan fees and repayment terms are strictly between the two parties.
MoneyMutual is not a lender and does not have anything to do with the loan agreement between the borrower and lender. Any questions or concerns should be directed to the lending company.
Navigate the MoneyMutual Website
Navigating the MoneyMutual website was a relatively easy experience for me. The Home page does not have much going on, mostly just offering an overview of the company, how it works, and some FAQs.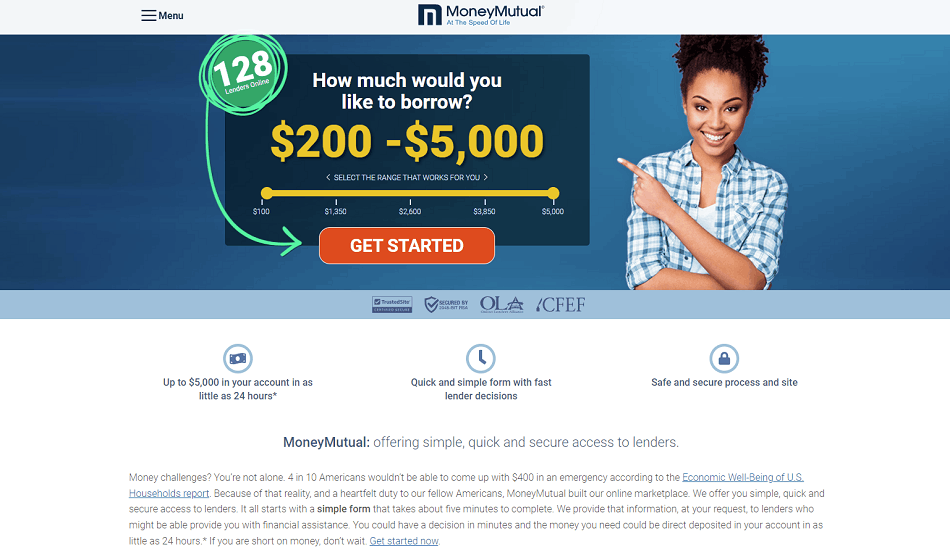 What stood out is the Get Started button, which actually appears three times on the page. On the upper left corner of the website is the Menu option which opens a drop-down tab on the left side.
You will also find the same menu tabs if you scroll all the way down to the Home page. The three main tabs are labeled as MoneyMutual, Resources, and Legal.
MoneyMutual's Contact Information
If you have any queries or concerns, you may consult the frequently asked questions (FAQs) found on the About Us or Frequently Asked Questions pages. There is also additional information found in the Resources section.
If you did not find answers from those pages, you may reach out to the company's customer service via telephone at 844-276-2063. You may also write an email and send it to [email protected]
Meanwhile, for mail correspondences, you may send them to the company's mailing address at 2510 E. Sunset Rd. Ste 6, #85 Las Vegas, Nevada, 89120.
The Bottom Line
Being in an emergency financial situation is never a good experience and can cause a lot of worry and stress for people. I'm glad to know that if I or anybody I know is ever placed in this difficult situation, the MoneyMutual platform is there as a great tool to find short-term financial assistance.
Note: There are risks involved when applying for and using loans. Consult the platform's terms and conditions page for more information.